Theft Crime Attorney in Alpharetta
Also Serving Cumming, Sandy Springs, Johns Creek, Fulton County & Forsyth County
Being charged for stealing, whether theft was your intention or not, is a stressor on you and your family. If convicted, you may incur prison time and high fines, and your conviction will remain on your permanent record.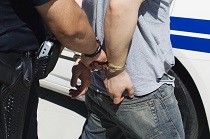 At Brian Hansford Law, our highly knowledgeable theft crime attorney in Alpharetta is here to help. Our team will ask questions that may assist in your defense. Our questions may include: When arrested, were you treated poorly? Were your rights violated by the arresting officer? This is a time when it is imperative to have an experienced criminal defense lawyer by your side—an advocate who can investigate every detail and prepare a solid defense.
Call Brian Hansford Law today at (678) 647-6444 or contact us online to schedule a free initial consultation with our theft crime lawyer in Alpharetta.
Defining Theft & Shoplifting
The defense advocates at Brian Hansford Law know how upsetting an arrest can be. We can help you understand the charges and their consequences, as well as the possible outcomes. Shoplifting and theft of any type are serious crimes.
The main aspects of shoplifting include:
Taking an item without paying
An intent to deprive an owner of possession
Altering or changing a price tag
Transferring an item from one container to another
Wrongfully causing the payment amount to be less than the item's retail value
Theft is the intent by a person or a group of persons to deprive an owner of his or her property.
Types of theft charges in Georgia include:
Theft by taking
Theft by deception
Theft by conversion
Theft by extortion
Theft by shoplifting
Due to the differences in types of theft, it is important to have an experienced advocate who knows the difference between misdemeanor and felony charges, and who knows the law. We have defended many clients through court proceedings, and we can protect your rights too.
Call

(678) 647-6444

for a Free Theft Defense Consultation
We do not judge. We defend. If you or a family member has been arrested, you need dependable representation from a theft crime lawyer in Alpharetta.
Call anytime for a case evaluation at (678) 647-6444. We respond to all messages within one day. We have an office in Cumming; but if it is more convenient, you may request to meet at our Roswell location.
Client Reviews
Don't Take Our Word For It
Previous Client

Brian and Erin were so patient and encouraging

Previous Client

Brian helped my daughter out more than I ever expected!

Jason

Intelligent, dedicated, and wise.

Previous Client

They were on top of my case from day one.

Gerrie and Julian T.

Very compassionate, diligent, and experienced.

Previous Client

Brian was amazing to work with.

Previous Client

They even got back to me on weekends.

Cindy

An amazing and knowledgeable attorney.

Previous Client

If ratings could go to a 10, He would be an 11.

Dan

They provided good, solid advice to my family.

Previous Client

Excellent, caring representation and a good result.

James

Outstanding and efficient job.

Jason

My case was concluded favorably.

Lynette

I am FOREVER GRATEFUL to Brian.

Shawn

We were able to get my charges dropped.

Previous Client

He mapped out a plan and got it done.

Previous Client

I always felt like I knew exactly where my case stood.

Brandy

Kept us informed every step of the way.

Previous Client

Brian and his team helped calmed my nerves.

Justin

I enjoyed working with him and Erin

Frankie

He will fight to make sure you are given a fair shake

Jessica

Forever grateful to this attorney and would hire him again in a split second

Marie

Represented by the best legal team in the area

Previous Client

Well worth the time and money.

Sarah

Mr. Hansford put my mind at ease

Previous Client

Please call on Brian Hansford, you will NOT be disappointed.

Marianne

Super responsive and great to work with

John

Beyond competent, knowledgeable and worth 10x his fee

David

Works for your best interest and gets results

Jason

Professional and maintained a line of communication throughout my case

Doug

Mr. Hansford is a valuable asset to have on your side

Vicky

Always very professional and thorough

Kathleen

Immediate, thorough, thoughtful and very professional representation

Joe

I attribute the success to the outstanding service provided by Mr. Hansford

Chris I.

Forever grateful for his help and success in our legal issues

Previous Client

Brian is well-respected in the Alpharetta courts

Previous Client

Earned his status as a top lawyer because of his warmhearted and amazing attitude in his field

Previous Client

On point from the very beginning and kept me and my family in the loop

Previous Client

Attentive, understanding, and thorough in the research and execution of defense

Bill

His team did better than I could have ever expected